Monthly subscription boxes are all the rage these days. Especially since we're still in the middle of a global pandemic. It's nice to get something delivered to our door while we're nice and safe inside.
They make great gifts for friends and family – and for ourselves. Like the old cliche says,
They're the gift that keeps on giving! Every month.
Wouldn't it be fun to get a box with self care / mindfulness gifts brought to your doorstep twelve times a year?

As you read through the reviews below, you'll see that many customers can't wait to get their new boxes every month. They actually get excited to see the delivery driver coming with them.
Then, they get to open the box and reveal all their little gifts inside.
If you are someone who is working on becoming a happier person; who is realizing that self care and self love are not selfish; and who is learning little by little how to tend to your 'inner' self – then one of these subscription boxes could be perfect for you.
They'll help you pamper yourself and practice mindfulness in new ways every month.
Below are the five most popular self care subscription boxes. I chose each one based on it's number of reviews and the overall score of reviews. As you'll see, a few of them have over 1,000 reviews.
All five of these monthly subscription boxes have been around for sometime now and have many happy, regular customers.
Information on each box includes: a photo, a video, a detailed description of what you get, the price, and reviews.
You can click on any of the links and you'll be able to purchase them.
This article contains affiliate links which means if you purchase a product, I may receive a commission at no cost to you. You can read my disclosure here. Thanks."
TheraBox – Self Care Subscription Box
Mindfully curated by therapists to reduce stress & increase joy through self love❤️ BEST OF 2020 AWARD!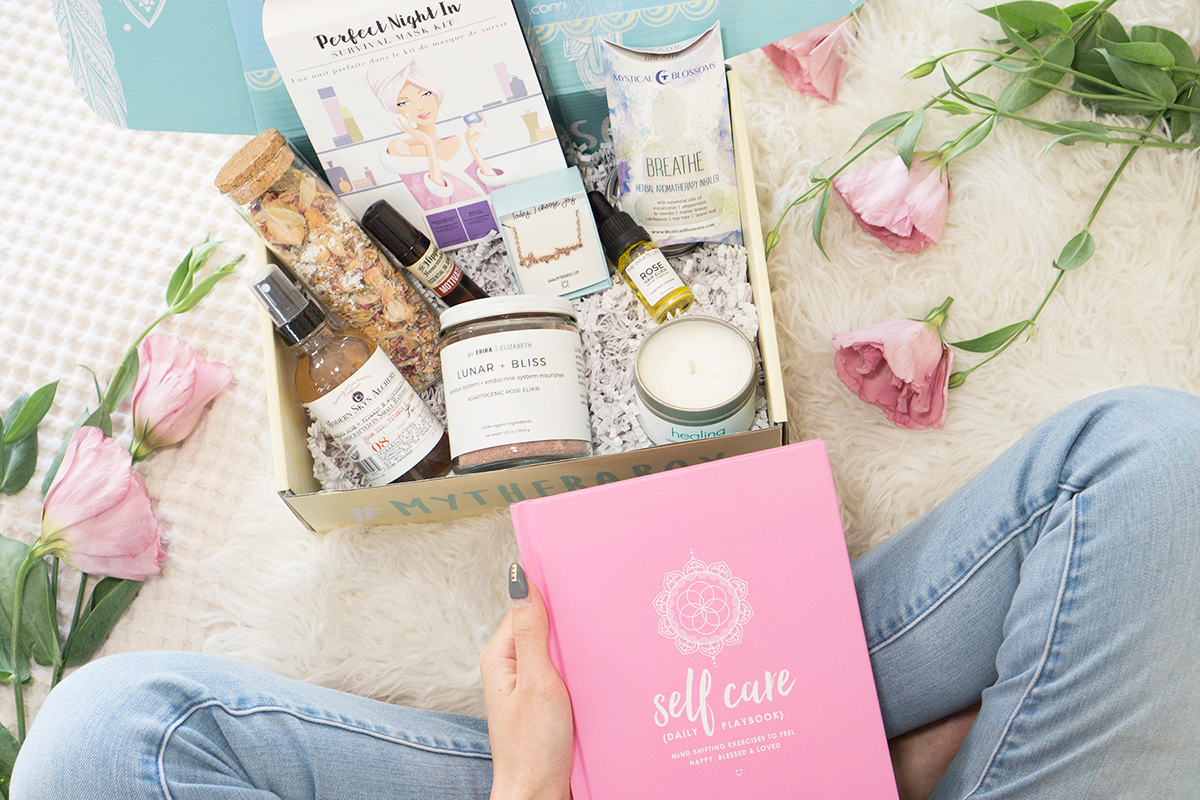 The Ultimate Self Care Subscription Box!
Each box includes 1 research inspired therapeutic activity to wire your brain for more joy plus 6 to 8 self-care wellness goodies to reduce stress & enhance your life! We aim to inspire more love & happiness in every box through mindfully curated products to feed your mind, body & soul. For all finders & seekers of an inspired life❤️ #TreatYoself!
1 happiness activity plus 6 – 8 self care wellness goodies (i.e., aromatherapy, natural/organic bath, body, skincare products, and other lifestyle goodies!)
Over $120+ retail value in every box!
Curated by therapists to increase happiness & reduce stress
Unbox happiness monthly! Filled with all things mindful, thoughtful, and beautiful to help you de-stress and live an inspired life!
#TreatYoself or a loved one to some self care & relaxation!
2115 Reviews. Score: 4.5 Stars
Reviews of TheraBox:
I've been subscribed to this box for almost a year. When it arrives at my doorstep it brings a smile to my face. I love that it is put together by a therapist and what really sets it apart from the rest is there is usually a "therapy" type activity or book inside. Of course I love the love me gifts too which include everything from candles, to scented lotion, to facemasks and body sprays. My favorite item so far has been the unicorn body butter and the rose spray mist toner. Most recently, my box included a package of cards with a daily fun activity on it, one that makes your soul smile and your feet dance. I highly recommend THERABOX!
I have wondered if there was a self-care box out there that would fit my needs and I finally found it in TheraBox. I just got my first box and I was like a kid at Christmas. Everything in that box felt like it had been selected especially for me. I love anything to do with my hands and feet and there were things for that, plus meditation for the mind which helps me keep my mental health in check. I am so glad I found this box. I have cancelled all other subscription boxes I was using because everything I'm looking for is in this one amazing box!
I received my first TheraBox and I LOVE it! It's got all the essentials to help you relax and get your mind flowing with positive vibes. Can't wait to receive my next one! 😍
---
HopeBox – Care for Your Body, Heart, & Soul
Care for Your Body, Heart, & Soul
The Ultimate Gift of Comfort and Hope
The gift of hope! Monthly encouragement with a curated selection of high quality treasures. Includes books, aromatherapy, jewelry, candles, snuggle buds, organic soaks, scrubs, masks, and more, all meticulously selected from the world's most talented artisans, all of whom have their own inspiring stories of hope and renewal.
Hopebox Classic: 10+ quality treasures every month. Retail value $115+
Personal message of hope included each month
Each uplifting self-care product is full-sized, vegan, and cruelty-free
Giving as a gift? We'll include your note to the recipient inside their Hopebox right on top
Each month Hopebox changes to reflect the seasons with new uplifting items
1364 Reviews. Score: 5 Stars
Reviews of Hope Box:
What a wonderful box of Love we got this February. It is filled as always with a handmade goodie (beautiful coasters) and other adorable items just in time to celebrate Valentine's day. Of course, there's chocolate to eat…Yum.
This is by far my most favorite subscription box and I always look forward to receiving.
Thank you again. I can't get enough of HopeBox.
Karen
This little box is so packed with unique items! I LOVE that the majority of the items are small artisan, handmade items! I love being able to support people that work for themselves and love hearing the stories behind them that HOPEBOX sends out! The "grandmas" that make the crochet items, the small families that want to spend more time together instead of each going their separate ways every day to work for "corporate America", the disabled people that are able to make a living despite their disability!! The stories of the makers are awesome and make me feel so good about spending my money here instead of a big factory store!!
The other thing I love about this box is that there is CLEARLY a lot of heart and soul put into them….. from the items chosen to the presentation of them in the box, I can see that those at HOPEBOX really care about making a difference and truly sending out Hope, not just selling another box!! Keep up the good work you guys! This is definitely my go to box for any gifts I need to ship and even when I just feel a friend needs a word of encouragement and Hope! I will be a customer for life!! <3
---
CoachCrate
Personal Growth, Curated Products, and Life Coach delivered to your door!
CoachCrate– Your best self's inside!
Each month we carefully cultivate our box around a different theme, topic or area of personal growth. We then choose products and design a plan for the month that will promote and challenge your growth in that area! Get ready to increase your happiness, peace, empowerment, and over all well-being and quality of life! Each CoachCrate contains:
Monthly Coaching Breakdown: Your growth plan for the month!
Book with Reading Guide: Our reading guide provides tips, tricks, and suggestions while working through the book of the month. We also provide questions to expand and grow upon what you are reading! (It's like a book club in a guide!)
2 to 4 Exclusive Recorded Online Coaching Videos(s): These recorded videos provide coaching and a platform to connect, ask questions, and push past your comfort zone. Since the sessions are pre-recorded you have the ability to watch and re-watch whenever your schedule allows it!
3-6 Productivity, Relaxation, Growth, and Well-Being Items: Every month we choose products that help you relax, grow, organize, and do this whole "out of the comfort zone" thing a little bit easier. All products are in alignment with the theme or area of focus for that month. Quality is important to us. We do our best to fill your crate with products you will use and adore.
Additional Coaching Content: This could be in the form of a live group coaching call, worksheets and exercises, audio files, and more!
117 Reviews. Score: 4.75 Stars
Reviews of CoachCrate:
I absolutely love my monthly box from CoachCrate! It always has a great book with a guide that makes it more relatable to my life and goals. The extra goodies are so fun and different than most things I see in stores. I'm just sad that it always gets delivered when I'm not home and I have to finish my day in anticipation of getting home and checking out my new goodies!
received my first CoachCrate on Boundaries. At first, I was hesitant on how good the book would be because I didn't feel like I needed to set boundaries, but boy was I wrong! The content of the book was GREAT!
I loved that not only the book was a hardcover, but it came with a small "homework" book to help you get more from your book of the month! The gifts that came with the box was such a treat too!
This is really a good way to invest in yourself. I HIGHLY recommend CoachCrate!

This box is so well curated! Every month is a different self improvement theme and there are a couple little goodies to go along with your goals. This box has definitely been helping me and I've only been subscribed for a month. I can't wait for more!
---
Feeling Fab – A Box of Wellness, Self-Love and Self-Care
💝 Spreading wellness and self-love through clean, balancing self-care products and spiritual tools
Feeling Fab – Love Your Body, Love Yourself 💜
We created Feeling Fab Box so it can be your monthly reminder that your body and mind need to feel loved and appreciated. We are here to give you the tools to take care of yourself and to build your daily me-time routines and rituals. ✨FFB PREMIUM has 6-7 clean, beautiful products, up to $100 retail value. ✨FFB PREMIUM PLUS has 8-10 products.✨
As seen in Forbes, HuffPost, BuzzFeed
Each FFB Premium box contains 6-9 products, retail value up to $100
Our MINI boxes contain 4-6 wellness and self-care products, retail value $55+
Clean and natural beauty, skin-care, body-care, wellness and spiritual tools
Spiritual growth and stress reducing tools, such as self-care trackers, mood charts, affirmations, gratitude and journal prompts
213 Reviews. Score: 4.25 Stars
Reviews of Feeling Fab:
I LOVE THIS BOX! It is a must-have for every month self-care! Thank you, thank you Feeling Fab for keeping up and continuing to put together wonderful boxes during such a challenging time. All the items are picked out with great thought and beautiful intent…they really do care about you feeling fab! It is so important now more than ever to relax, recharge, and keep yourself well. If you can only get one box, make it this one! The products are full size and often last me beyond 30 days. There is an information sheet included to better detail each item and even individual coupon codes to reorder your favorites! I know for a fact I'd take less care of my well-being without this box….again, a big Thank You!
This is the 2nd month of this subscription and I just love it!! I needed a pick me up and I thought I would give it a try! I love the adorable purple box and the way all the contents fit so perfectly! The curated box has products I have never seen and comes with a lovely card not only listing all the contents but you start out with an affirmation and quote usually about self worth and self care. Who doesn't live that? :-). Today when it arrived I put it aside until I could find the perfect moment to savor this gem of a box. It did not disappoint! The only problem is now I have to wait one month for another 😂.
I always get excited when they tell me my box has shipped! I also love that there are affirmations and quotes in every box. This months self love box was really good and filled with great things. I can't wait to use my selenite crystal bundle and the rose quartz perfume is nice.
---
Goddess Provisions
Monthly box with crystals, aromatherapy, natural beauty products & spiritual tools
What's inside the Goddess Provisions Box?
Our boxes are curated to nurture your inner goddess and help grow your spiritual practice. We pack each box with 5 to 7 full-size products, totalling for a retail value of $80-$100. All the products inside are vegan, cruelty-free and natural. Each box has a mix of crystals, aromatherapy, natural beauty products, superfood snacks & spiritual tools.
100% vegan and cruelty-free
Items include: crystals, aromatherapy, vegan beauty, superfood snacks, tools for spiritual growth
Free U.S. shipping!
5 to 7 full-size products in each box
Typical box value $80-$100
1461 Reviews: Score: 4.75 Stars
Reviews of Goddess Provisions:
My friends gave this to me because I am psychic medium known as the Goddess Says and this box is perfect! From the first to the second box, I love all the products! Everything is earth friendly and high vibrating. I love the card that tells you all the items and you get more stuff online too, make sure you read each thing because there are more goodies online. This Goddess highly recommends this box for any spiritual friend/family member or Goddess in your life. Again this box is for those who are spiritual waking up or already woke! Thank the GODDESS for this box! lol love it!
I have been a subscriber for 2, going on 3, months. I absolutely LOVE recieving this box every month, highly recommend! Never had any shopping issues! They do an AWESOME job on who they partner with each month and what products go inside. Both boxes I have revieved were filled with products I could use! I have used everything from both boxes and love everything inside. Definitely well worth it's value!
The best! I absolutely love Goddess Provisions!! Great array of products and fun themes! Superior products to boxes of similar style. I spend the rest of the month dying to see what's in the next one. They also have great customer service!!
---
Thanks for reading!
Which subscription box are you choosing?
Feel free to email me anytime you have questions or comments.
Here's my email: paula@finallyworryfree.org.
Paula
If you'd like to get my Finally Worry Free newsletters, just click here.